---
My name is Kent G Anderson I'm the founder /President of FutureVisionaries.com and Global FUTURE Brands ; I want you to know what I've been through and so It may help you . I cant tell you in words how I feel every day I live with this knowing that your ideas your rights to the Brand FUTURE are being taken every day since sept 2004 The Day I was set up In September I Feel like the world Trade Center. Find out how I got destroyed and also how the world I had created got destroyed
Also how an agreement was Hidden for more than 2 Years and the attorney who I trusted Set Me Up ; I would like you to know their names You The people should contact them write to The USPTO.Gov tell them how you feel. I fought for your Global rights and ideas To the Brand FUTURE all I've got is stabbed in the Back and your ideas and mine taken from me . I'm not rich I work a Security job
at High school for years ; Nor do I Own a New Car or A Home I live at home. I Cant tell you How much is spend In Time allowances For FUTURE ;
So many wanting me To Fail So they will get your ideas and Global rights along with Ming ; I Don't Like monopolies ; No press will even do a story on me ;ABC;NBC;CBS;and talk Shows ;Tabloids; Nore Does any attorney want to represent me in Federal Court Because I don't have the money . I have tried I Called nonprofit ; Pro bono; VC ; Angel investors ; Its like you have to live in there city To even get funded ; And they only fund you if your making money
How can I ; Your and my world is being attacked and our own ideas are being used against us; Like you to See PEP BOYS Only has a Tire wheel cover and Hub Caps for FUTURA ; pep boys sued Ford Motor Over the Name FUTURA for a modal of a Car ;I Question why Ford Didn't even fight the Judges Judgment ?
I question why That the USPTO Allowed pep boys to file against our ideas I say its Our ideas Because i was going to let all people and all countries benefit by the Brand For there own ideas ; By the way PEP BOYS 17 Objections vs me For 4 Years are in the discovery Stage need people who cares as I Do ;I need help now funding ; I'm not going to give up on the people and there ideas I Hope daily that I will find a philanthropy ; All I'm finding out that Regardless of your prior pend ideas and Rights ; in countries people lawyers companies will file after you wait . Attack you ; File objections Vs You ; I have been Fighting a war For 7 Years ; even with the trademark office I Challenged them and the way companies have and get monopolies ;
Here are the Names of the people Involved ; I have already visited with my former attorney ;Threatens me ;Denies things ; Ps He doesn't have a law firm he works Now For USPTO ; I wish I could see Paul E FAHRENKOPF Of Washington DC . And Lawrence A Hoffamn in court.Attorney Using my signature and my pend rights In USA And filing from those rights of ours world wide any country before any one else can even file . Further more visiting with Paul I said I'm sure that Chantecaille Beaute Inc have licensers just waiting for my rights ideas To Fall Paul said nervously Aha ;
And Donald Trump Is waiting To Get my ideas For FUTURE For hotels he said aha The Law firm for Hoffamn In NY iS OSTROLENK Faber ,Gerb & Soffen LLP 1180 Avenue of the Americas New York ,NY 10036-8403 Tel 2123820700 The Company taking your ideas for years That Opposed me for years applied after me In NY Is Chantecaille Beaute Inc FUTURE SKIN ; And
Oliver Chantecaille VP ; And the Agreement that i was set up in Of Sep 14 2004 ; go into see how they set me up Had the connections
To put thru the uspto and to get approved ; This was all planed out we need to challenge these people and all involved and this Law Firm Of NY ; If I have to stand alone for the many I will ; Please write to me call me let me know your thoughts Write to our president Bush I have tried . I even tried to visit with him and Bill Clinton I have ideas that can help our world all people can you here my voice.
Let the FUTURE people voices be heard worldwide, call these people email them share my story all I have is ideas powerful words I look at the past and see how leaders of our country and others stood up for what they believed in best.
See my http://t.co/FtfYe3TeOz change.org webpage.

JUNE 26 07
To PEP BOYS OWNER
AND ALL INVOLVED
AND CORPORATE HEADQUARTERS
PEP BOYS
3111 WEST ALLEGHENY AVENUE
PHILADELPHIA, PA 19132
PHILADELPHIA COUNTRY

To the owners of Pep Boys, you brought this global battle on to me and the people who would benefit using the brand FUTURE to realize their ideas. This is being destroyed because of Pep Boys oppositions over the years I had created the brand FUTURE concept applying for the rights since 2000. I have built global value to this brand.
A representative of Pep Boys had indicated working with me a few years ago, and then a new agreement was drawn up that was contrary to the original stance. I was disappointed because I had relied on the word of the original intent. Money and power of your company is at issue here. The FUTURA tire of 1964 is separate from the brand FUTURE. If this company wanted the FUTURE brand, why hadn't they applied for it before?
My intention is to have the brand FUTURE to have a global infrastructure that would help people. I would very much like to be part of this. A meeting with Mr. Jeffrey Rachor would be appreciated. Please recognize the global benefits of working with me.
If these rights go abandoned, Chantecaille has the Fraud agreement of 2004 set up to get global rights of the people to take this agreement which was set up by my own lawyer in an agreement that was misleading to me.
Your oppositions no. 91157538; 91157768; 91158277; 91158509; 91158520; 91158786; 91159159; 91164461; 91164602; 91165913; 91170501; 91173632 are destroying me and other people globally and their rights to use FUTURE for their own ideas.
Discovery Period to close: 8/3/07; Plaintiff's 30 day testimony period to close 11/1/07; defendant's 30-day testimony period to close: 12/31/07 and Plaintiff's 15-day rebuttal testimony period 2/1408 is in progress.
Please respond to me concerning these attacks as soon as possible
Note the countries that countroled there technology was left behind of the countries that shared there technology wanted to work with other countries and people Please repond asap Stop your attacks on us the people and our Future

Respectfuly submited

By
Kent G Anderson
FUTURE sm/t,
925 N Griffin
Bismark ND 58501
home 701-223-0639
founder/president sole proprietor
futurevisionaries.com & futuremotors.com
Global future brands licensing world

Please visit my GoFundMe webpage at: https://www.gofundme.com/wcqgf2a

View my VIDEO here: https://www.youtube.com/watch?v=c0ms41tS00Q&feature=youtu.be
For more information email me: milmntec@centurylink.net
Please see our new colection of documents showing the fight to keep the trademark from being stolen by greedy businesses.
NEW - read my letters to president Obama and the answer from the European Union.


Pep Boys FUTURA Tires For 4 Years VS Brand FUTURE and Kent G. Anderson, an individual, for automobiles, vehicles all goods and services associated and connected to.
Kent Anderson says FUTURA is separate as Pep Boys only has a tire, wheel covers, hub caps For FUTURA; he views FUTURE as separate from FUTURA; and Kent envisions his years and ideas which he had applied to FUTURE In US; UK; Europe can benefit people globally for realizing their own ideas.
The FUTURE belongs to the people; he wants to see that opportunity to be there for them. Kent sees the FUTURE Brand as a global open door infrastructure where all people and countries can bring forth new ideas, as well as, benefit by using their own ideas with the brand name FUTURE. A global revenue stream would help reinvest in people.
Kent envisions a global intellectual property where people can license non exclusive the
Brand FUTURE For their own ideas with people and countries working together. The goal of
have anybody benefiting from this brand with countries working together and sharing the
Brand FUTURE, is Kent's motivation for years
Kent Is looking for partners and a law firm as partners to represent the Global people's
ideas and rights in federal court VS Pep boys and the FUTURA tire of 1964; FUTURE is new.

http://www.prweb.com/releases/2007/02/prweb503951.htm

http://www.linkedin.com/pub/2/bbb/a3a

http://www.fastpitchonline.com/Kent-Anderson/

http://video.google.com/videoplay
Email me: milmntec@centurylink.net

A Personal letter from kent G Anderson

President/Founder of FutureVisionaries.com

To: the People , the Visionaries ..

People have a right to know This is the peoples Future.

Bringing this to your attention . The Pep Boys Manny, Moe & Jack of California
"Pep Boys", a California Corporation, located and doing business at 311 West
Allegheny Avenue, Philadelphia, Pennsylvania vs. Kent G. Anderson, an individual
doing business at 925 North Griffin, Bismarck, ND 58501 in a brand dispute.
The details are at TTABVUE USPTO web page.

I'm in a battle for the rights of the brand FUTURE. I don't have the
funds to fight this trademark battle. I'm asking for financial help in
the form of business loans for a start up business that has been pending
for years. Funds and years have been spent applying for the brand FUTURE
in the US, UK and CTM. This brand can be shared so all people and countries
can benefit by The Brand FUTURE For ther own ideas, and having a place to realize their ideas for products and services.
As an inventor, I know the challenges that people have to overcome when
they don't have the resources as other do. Their ideas are not heard.
With the brand FUTURE people will be have the opportunity to have their
rights and ideas help create new economies globally.
On May 22, 06 these rights to the brand FUTURE are threatened.
I am looking for funds to equally represent these rights and funds for a start up company.
I want people know who I am and what I believe in.

Please send me your thoughts.

Kind regards,

Kent G Anderson
Founder/president
Summary - story
2010 My Name Is Kent G Anderson. Having big ideas, I had aplied for the Brand FUTURE in 2000.
This brand name is to have global meaning to all people; I didn't want to see the brand
FUTURE being controlled. I also wanted to draw attention to the USPTO and how companies
would apply for one good in a class and say that they claim all of the goods in that class.
The individuals with few resources didn't have a chance. It seems to me that everything is
being controlled by the affluent.
I have invested years of my life applying for the Brand FUTURE, only to have companies
apply after me. Chantacile A cosemetic Company of New York applied for Future Skin
whereby I had the mark FUTURE LOOK before them. My own attorney In DC worked in their
best interest not mine by putting all of the goods and services in the USA, UK, and Europe
in the agreement.
I didn't understand what they were planning. It was posted with the USPTO. I received no
royalties or anything. They are using my own ideas me and using my signature. This huge
intellectual law firm in NY are using my ideas which were met to be used globally. I had
planned to let people share in this brand through licensing the brand to create jobs and
opportunities Their agreement is not fair; they had only cosmetic; class 3 will need to
continue to be pending.
Pep Boys have also opposed FUTURE Brands. They have tires under the FUTURA Brand.
They now want all of Class 12 everything associated and connected to automobiles. My
vision was the Brand FUTURE for automobiles being shared by people who would benefit
with the use of their own ideas. Then theres a company In UK FUTURE Publication who want
class 16 and entertainment services. I've made nothing from my ideas and patents.

I need help with advice and funds ,partners to protect this huge portfolio and global rights.
We believe in our visions and have built the brand FUTURE around this vision. With our pending global infrastructure in all sectors, with our pending rights in the USA, UK, CTM, and with the sharing of the brand FUTURE with licensing potential, new jobs and opportunities will allow new infrastructures interconnecting facilities worldwide. With Our brand FUTURE in automobiles etc. and the large pending global infrastructure, new industries will be developed where people will have the means to test and market their ideas in any marketing sector. By working together and combining our resources with Our brands FUTURE and the pending projects in sharing through licensing, benefits can be gained by all people.
GOAL/GLOBAL MISSION AND GLOBAL BUSINESS STRATEGY
* As one of many, we are strong. Our goal is to secure rights globally to the brand FUTURE, to create global opportunities from the brand so that all people can benefit from the brand FUTURE with their ideas and dreams. Global organizations and companies affiliated with brand FUTURE will create global resources and infrastructures that will allow development of new ideas and a means for new industries to be developed. Global benefits will be created for all people.
* My vision and belief is that the brand FUTURE has the ability to create opportunities for all people and build new jobs and industries globally. Opportunities will be available to all people, especially the people who have ideas for products and services but do not have the resources. The opportunity would include using their trademarks, copyrights and patents with the brand FUTURE which would help inventors, etc. to be heard and to realize their potential. For example, individual's designs for automobiles etc. would be used and associated with the brand FUTURE. The global infrastructure built with the brand FUTURE would be able to support their efforts with knowledge and resources. By working together with the brand FUTURE and sharing by licensing ideas and products to each other, each individual will benefit from the brand FUTURE. Companies and individual will be allowed separately to benefit from the FUTURE brand globally.
* Global Trademark Matter: Challenger vs. Kent Anderson over the brand FUTURE. I do not want to see the brand FUTURE controlled by one when it should offer benefits to many. I'm looking for trademark -attorneys who want to help. And Seeking volunteer help .

I am Kent Anderson, founder and president of FutureSM Enterprises. The brand FUTURE should be shared to allow people to benefit globally. I know that my plan and the years of my life's work will allow the creation of new jobs globally and create opportunity for others. I am asking for financial help. The brand FUTURE has challengers who have vast financial resources. As an individual, I do not have.the financial resources to meet the ongoing cost associated with the global pending infrastructure and for maintaining the intellectual property rights in the USA/UK/CTM.
Please address questions and concerns to me.
I am dedicated to our future. I see a more highly advanced world. I am very creative, hold many patents, enjoy inventing, and am a prolific thinker. Leadership value qualities, integrity and my love and fascination is with ideas in inventing, and thinking of a futuristic world.
I find fascination with our past and the future, and how inventors, entrepreneurs changed the world. I care for our world and all people in all countries. I wonder about what future generations will say about us, and ask what they have done for us. What will our answer be? Goals is what we can do now for our world to benefit our world and to build new crossroads to our future to challenge the boundaries that hold us back, and to bring down the barriers that separate us as a people. To work in unity. There needs to be forth entity a place that people can market, test their ideas in any marketing sector focused towards our future. I am in the process of building this corporation, and have spent many years on it. Hopes are to find the leaders; people who have the same interest and goals I have. In the end, we will be able to offer what no other company in the world can. This will be accomplished by focusing on the new, not the old TMSM.
This will be a large undertaking, and will provide a huge marketing arena, with many opportunities available. To test and to market, invest in properties to launch new industries, new products, and new services under the name FutureSM. Future related products in any marketing sector and focus on not the old, but the new corporation. Could include on Future IslandSM, Research centers, retail, health, communications, etc.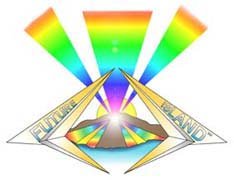 One such endeavor would be Future IslandSM. This unique concept, which has already been initially designed and thought through, would be a very innovative idea, and would allow businesses and industries to come together in one place. By hosting these future facilities in one place, ideas would be able to come together and flourish. Basically, the main goal would be to build a NEW WORLD.SM
Qualifications for applicants would include integrity, knowledge, leadership abilities, positive attitude, and training in many different fields of today's industries, so that we may build the new industries for tomorrow. If you would like to be a part of a world leader into the FutureSM, and to work with some of the best minds and visionaries that will someday build new markets and invest in their abilities and dreams. This will represent a new way of thinking to be a future leader, and to uphold the best standards to represent the Future. It will reflect to the rest of the world a way to accomplish great benefits for our generation and future generations. You want to be remembered for what you have done and who you are. It is not how much money or power we have, but rather the ability to recognize someone's dream, and to help them accomplish it,SM and to test their ideas in any marketing sectorSM PAT. PEND.
We have spent years of building the brand FUTURE(TM) with our pending rights in USA/UK.
We want to create an open global infrastructures to allow all people and all countries the ability to share the brand FUTURE(TM) and to created and build new industries around it.
We Would Like To Have And To Create An Open Door Policy to Allow New Products To Be Discovered To Benefit Our World . At This Time We Do not solicit New Ideas because We Don't Have The Resources To do So . We Hope Soon To Have Pending Partners And Others Who Want To Join Us So We Can build the projects and Open infrastructure.
You can see our work at www.uspto.gov search page. Under Trademarks enter the owner's name Kent G Anderson
o To build something no one has done beforeSM
o A place to project into the futureSM
o To build new industries, new products, new markets, etc.SM
o Building a new world brandSM name futureSM
o A place to test your ideas in any marketing sector focused towards our futureSM
o To invest in the people and their ideas and their dreams for our future and the benefit of our worldSM
o FutureSM Research Centers
o FutureSM Retail Stores/Shopping Malls
o FutureSM Radio, TV, Broadcasting
o FutureSM Online Services
o FutureSM Restaurant Services
o FutureSM Publication Services
o FutureSM Financial Services/Banks
o FutureSM Health Care Services
o FutureSM Sports Related Services
o FutureSM Transportation Services
o FutureSM Entertainment Services
o FutureSM Industry Services
o FutureSM Hotels, Motels, Resorts, Casinos
o FutureSM Educational Services
o FutureSM Amusement Park Services
o FutureSM Goods and Products
The possibilities of the FUTURE(TM) brand are endless and not limited to:
o FutureTM motor company, under the brand future tm for automobiles, cars, trucks, SUV, motorcycles, RV, aircraft, land craft, watercraft, spacecraft
o FutureSM Dealerships
o FutureTM Food, Beverages, Snack Food, Soda Pop
o FutureSM Shopping Centers, Malls, Plazas
o FutureSM Hotels, Motels, Inn's Restaurants, Casinos
o FutureSM Healthcare Services, Hospitals
o FutureSM Medical Services
o FutureSM Airline Services, and transportation of people and goods by air, water, land
o FutureSM Computers, Technology - Stores
o FutureSM Schools, Colleges, Universities
o FutureSM Online Stores
o FutureSM Radio and TV broadcasting
o FutureSM Financial Services banks, Credit Card Services
o FutureSM Appliances and Stores
o FutureSM Gift Stores
o FutureSM Clothing and Apparel Stores
o FutureSM Sporting Goods, Discount Stores, Department Stores, Retail Stores
o FutureSM Theme Parks, Amusement Parks
o FutureSM Launching and Promoting Football, Baseball, Basketball, Car Races
o FutureSM Providing facilities Researching centers, design, develop, automobiles, aircraft, space craft, water craft
Much more...
BILLIONAIRELEADERS.COM
BUILDINGANEWWORLD.COM
BUSINESSRADIOSHOW.COM
COCONUTKIDSBOOKS.COM
COCONUTKIDSTOYS.COM
COSMICROCKET.COM
FUTUREAUTOMOBILEBRANDSINC.COM
FUTUREAUTOMOBILESINC.COM
FUTUREBRANDS.INFO
FUTURECOUNTRY.COM
FUTUREDEALERSHIPS.COM
FUTUREFRANCHISES.COM
FUTUREGLOBALCORPORATION.COM
FUTUREISLAND.US
FUTUREISLANDCITY.COM
FUTUREISLANDWORLD.COM
FUTURELICENSINGWORLD.COM
FUTUREMOTORCO.COM
FUTUREMOTORCOMPANYPRESENTSAUTOMOBILESCARSTRUCKSAIRCRAFTETC.COM
FUTUREMOTORCOMPANY.COM
FUTUREMOTORCOMPANYS.COM
FUTUREMOTORFOUNDATION.COM
FUTUREPRINCESS.COM
FUTURESHOPPINGCENTER.COM
FUTURETRADEMARKS.COM
FUTURISTICCITY.COM
FUTURISTICISLAND.COM
INCFORSALE.COM
LICENSETHEBRANDFUTURE.COM
PATENTRADIOSHOW.COM
USA PATENTS FOR LICENSE
Looking for manufacturers, entrepreneurs. We believe our patents have global potential.
The patents can be viewed at www.uspto.gov. Search under patents and enter patent number.
1. Title: Method of Making a Pizza with the Crust Being in the center Patent Number 6077553.
This is a pizza with the pizza toppings on both sides called the Pizza Flip TM. We have also reserved pizzaflip.com and have created a cartoon character called Pizza Flip for marketing. The market is for vending, frozen foods, restaurants and ovens.
2. Title: Simulated Time Ship Dining and Entertainment Arrangement Patent Number 6161341.
Patent is a restaurant simulated time ship. Markets are amusement parks, hotels, shopping centers and restaurants. The patent has detailed drawings.
3. Title: Vacuum Cleaning System Patent Number 5870797.
This is a unique self vacuuming and cleaning carpet system. Market includes homes, business, aircraft, boats, automobiles, office buildings and power plants.
4. Title: Strobe Light for a Vehicle Tire and Wheel Patent No. 5548274
Virtual Tire Imaging. As the automobile's tires are moving, moving images and written material will be for viewing at night. The patent has detailed drawing.
The market is for automobiles, car shows and special events.
We are looking for TV shows, news shows or talk shows, that want to interview us, to promote our ideas and projects to others; so they may benefit from our ideas. To help others by creating new goods and services by sharing the Brand FUTURE by licensing the BRAND FUTURE and our Intellectual Property to others work together . This creates the infrastructure to allow people to test and to market their ideas in any market sectors.
We plan to help the world and we are looking for people who feel the same as we do.
Below are several examples of patents I have secured, including the Time-Saver SM Self-Cleaning Carpet, Rent & Rescue ToysSM, and The Dust BuddiesSM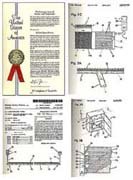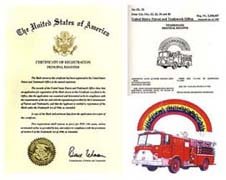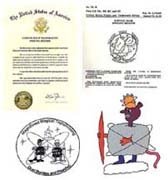 If you are interested and feel you have what it takes, please email me and tell me about your background, and what status you hold in society. What makes you unique or special in this world? What is your track record? Are you interested in investing?
I would love to hear from you. Below is my contact information.
Kent Anderson
Visionary Inventor with Track Record
Founder/President

FutureSM Enterprises
925 N. Griffin St.
Bismarck, ND 58501
(701) 223-0639
milmntec@centurylink.net


click on images to enlarge
We are accepting goodwill financial contributions to help pay for ongoing patent & trademark fees, etc.
Licensing opportunities are currently available under the name FutureSM.
To identify and hold harmless Future Visionaries.com and Futurelicensingworld.com., Its owner, subsidiaries, etc. for any liability or claims related to any property loss or damage caused by your actions or any of the information. We do not accept under any confidentiality of any kind. If you use this site, you agree to these terms. We do not solicit ideas. We are marketing and licensing our own intellectual property right, our future SM brands, to entities, who, has what it takes to be associated with our future imageTM. Our products, good, and services represent our future familyTM and affiliated with the newTM. We do not accept under any confidentiality of any kind. If you use this site, you agree to these terms.
WE ARE LOOKING FOR COMPANIES, INVENTORS, MARKETING COMPANIES, LICENSING COMPANIES ,ULTREPRENURES, MANUFACTURERS, ETC. WHO WANT TO USE OUR BRAND FUTURE WITH YOUR BRANDS AND FOR YOUR IDEAS, GOODS AND SERVICES . FOR THE FOLLOWING THIS CREATS THE GLOBAL OPORTUNITIES FOR ALL TO BENEFIT THIS IS NON-EXCLUSIVE SO WE ALL CAN BENEFIT .
TRADEMARKS IN INTERNATIONAL CLASSES HAS BEEN ALLOWED AT THE USPTO UNDER THE BRAND FUTURE.
SERIAL NUMBER 76/045282
CLASS 12 - LAND VEHICLES,NAMELY ,AUTOMOBILES,VANS,TRUCKS, ,SPORT UTILITY
VEHICLES,TOURING BUSES, MOTOR HOMES,MOTORCYCLES,ALL-TERRAIN VEHICLES IN
THE NATURE OF TRUCKS,LOCOMOTIVES, BICYCLES, SNOWMOBILES,
RACE CARS, AND HIGH-PERFORMANCE CARS;
AIRCRAFT,NAMELY,AIRPLANES,HELICOPTERS,AMPHIBIOUS AIRPLANES,AND GLIDERS;
WATER CRAFT , NAMELY ,SHIPS, BOATS ,SCULLS, HOVERCRAFT, SAIL BOATS ,
KAYAKS , FERRY BOATS, WATER SCOOTERS , PERSONAL JET BOATS , YACHTS , AND
RUN-ABOUTS ;SPACE CRAFT ,NAMELY LUNAR ROVERS ,SHUTTLES AND ROCKETS
76/348451
CLASS 016 PHOTOGRAPHS ALBUMS,BOOKS, MAGAZINES IN THE FIELD OF
ENTERTAINMENT ;CALENDARS,CARDS,STICKERS, MOUNTED PICTURES,POSTERS,
STATIONARY WRIGHTING PAPER , ENVELOPES ,PENS, PENCILS, NOTEBOOKS
,ERASERS, PENCIL SHARPER , PAPER WEIGHTS ,PAPER COASTERS ,DRAFTING
RULERS,PAINT BRUSHES ,TABLE COVERS MADE OF PAPER ,PAPER NAPKINS ,PAPER
MATS , COLORING BOOKS ,CROSSWORD PUZZLE ,AND GAME BOOKS
CLASS 39 PROVIDING AIRPORT TERMINAL BUSS TERMINAL ,SHIP TERMINAL AND
SPACE STATION TERMINAL SERVICES, NAMELY TRANSPORTATION OF PASSENGERS AND
GOODS BY AIR BUSS, SHIP AND SPACE SHUTTLE ; DELIVERY OF FOOD BY RESTAURANTS
CLASS 042 -RESTAURANT SERVICES ; CARY OUT RESTAURANTS
76/462060
CLASS 36 -CREDIT CARD SERVICES ; CREDIT CARD TRANSACTION PROCESSING
SERVICES ; CREDIT CARD VERIFICATION ; CREDIT RECOVERY AND COLLECTION;
ELECTRONIC CREDIT CARD TRANSACTION ; LOAN FINANCING ;BANKING; ONLINE
FINANCIAL SERVICES IN THE NATURE OF INVESTMENT SECURITY, SURETY SERVICES
, FINANCIAL GUARANTEE AND SURETY
SERIAL NUMBER 76/373698
041 ; EDUCATIONAL SERVICES , NAMELY PROVIDING COURSES IN THE FIELD OF
BUSINESS,HEALTH ,ECONOMICS,HISTORY ,SCIENCE,HEALTH ,TRANSPORTATION
,OUTER SPACE, NEW PRODUCT AND NEW INDUSTRIES DEVELOPMENT ,MARKETING,
GOVERNMENT, AND THE COOKING FOR MIDDLE SCHOOLS , HIGH SCHOOLS ,COLLEGES,
AND UNIVERSITIES
SERIAL NUMBER 76/462
76/098550
CLASS 44 -MEDICAL SERVICES
SERIAL NUMBER 76/241653
CLASS 30 - COFFEE TEA
CLASS 32 -BEVERAGES NAMELY ,CARBONATED ,LOW CALORIE ,AND NON -CARBONATED
SOFT DRINKS, ENERGY AND SPORT DRINKS, DRINKING WATER ,FRUIT DRINKS
,FLAVORED WATERS ,AND MINERAL AND AERATED WATERS .
CLASS 8 - HAND TOOLS NAMELY ,PLANERS ,DRILLS, RATCHET WRENCHES
,SHOVELS,HAND JACKS, AND HAMMERS
SERIAL NUMBER 76/088718
CLASS 42 ELECTRONIC PUBLISHING SERVICES ,NAMELY ,PUBLISHING OF TEXT AND
GRAPHIC WORKS OF OTHERS ON CD ,DVD, AND ONLINE ON THE SUBJECT OF THE
FUTURE ; PUBLICATION AND ONLINE PUBLICATION OF BOOKS
,MAGAZINES,NEWSPAPERS,TABLOIDS,COMIC BOOKS ,CHILDREN BOOKS ,JOURNALS ON
THE SUBJECT OF THE FUTURE
SERIAL NUMBER 76/100113
CLASS 038 PROVIDING MULTIPLE -USER ACCESS TO A GLOBAL COMPUTER
INFORMATION NETWORK;EMAIL SERVCIES ; COMMUNICATION SERVICES ,NAMELY ,
TRANSMITTING INFORMATION VIA THE INTERNET.
SERIAL NUMBER 76/276430
CLASS 43 PROVIDING TEMPORARY HOUSING ACCOMMODATIONS ; PROVIDING
ASSISTED LIVING FACILITIES, COMMUNITY CENTERS FOR SOCIAL GATHERINGS AND
MEETINGS .
SERIAL NUMBER 76/178931 MARK FUTURE ISLAND
039 -TRANSPORTATION OF PASSENGERS AND GOODS BY AIR ,BOAT,RAILBUSS AND
SPACE VEHICLES ; DELIVERY OF MAIL PACKAGES AND CARGO BY AIR ,BOAT,
RAIL,BUS AND SPACE VEHICLES
SERIAL NUMBER 76/240481
FUTURE COUNTRY ..
CLASS 042 LEGAL SERVICES
76/279342
CLASS 31 SANDED PET LITTER
75/931543
CLASS 28 - , TOYS ,NAMELY ,DOLLS, AND ACTION FIGURES AND
ACCESSORIES, ALL FOR USE THERE WITH THE ,DOLL ACTION FIGURE CLOTHING
,STUFFED TOYS , PLUSH TOYS, BEND ABLE TOYS , MECHANICAL TOYS ,
INFLATABLE TOYS , ELECTRONIC TOYS ,NAMELY ,ACTION FIGURES ,BOARD GAMES,
BATH TOYS ,TOY VEHICLES FEATURING FEATURING ELECTRONIC LIGHTS AND SOUND
BOARD GAMES ,CARD GAMES ,HAND HELD UNITS FOR PLAYING VIDEO GAMES ,STAND
-ALONE ARCADE GAME MACHINES ,INFANT TOYS ,AND TOYS ,RIDE ON TOYS , RADIO
-CONTROLLED TOY VEHICLES ,SKETCHING TOYS , TOY COOKING WARE ,POP UP TOYS
,CONSTRUCTION TOYS ,WIND UP TOYS, ACTION SKILL GAMES, SPORTS BALLS AND
TOY PLASTIC RUBBER BOUNCING BALLS, TOY BALLOONS , BABY MULTIPLE ACTIVITY
TOYS , CARD GAMES ,COSTUME MASKS ,PAPER FACE MASKS , TOY MODEL VEHICLES,
AND RELATED ACCESSORIES SOLD AS UNITS , TOY PEDAL CARS ,PLAY SETS FOR
ACTION FIGURES , PLAY SETS FOR ACTION FIGURES ,PLAY SETS FOR TOY
VEHICLES ,SKATE BOARDS ,THREE DIMENSIONAL PUZZLES , TOY BANKS ,TOY MODEL
HOBBY CRAFT KITS ,TOY MODEL ROCKETS AND ACCESSORIES SOLD AS UNIT ,TOY
WEAPONS ,JIG SAW PUZZLES ,ROLLER SKATES INLINE SKATES ,TOY CANDY
DISPENSERS SOLS EMPTY ,CHRISTMAS TREE ORNAMENTS , AMUSEMENT PARK RIDES
,BEACH TOYS , NAMELY ,INFLATABLE TOYS, WATER SQUIRTING TOYS ,AND TOY,
BUILDING BLOCKS , PROTECTIVE PADS AND PROTECTIVE PADDING ALL FOR SKATE
BOARDING AND INLINE SKATING ,TOY COIN BANKS ,PINBALL MACHINES
,INFLATABLE SWIMMING POOLS, INFLATABLE POOL TOYS AND SNOW GLOBES;
SERIAL NUMBER 76/049367
CLASS 3 CLASS THAT DEALS WITH COSMETICS, BEAUTY CARE .
These rights are available for licensing under the brand FUTURE
Also in UK and CTM this creates the Global infrastructure to allow new products and ideas to
be developed.. creating global opportunities for all
SERIAL NUMBER 76129409
International Class: 025
Clothing, namely, neckwear, headwear, top coats, coats, tops, dresses, robes, sweaters, sweatshirts, tuxedos, visors, waistcoats, walking shorts, wedding gowns, suits, wraps, veils, vests, underwear, under garments, athletic shoes, suits, bandanas, coats, sweat pants, shirts, shorts, swimwear, tennis wear, shawls, skating outfits, ski gloves, footwear, boots, infantwear, pants, slacks, jeans, skiwear, sleepwear, slippers, snowwear, gloves, wind resistant jackets, sport coats, sport shirts, parkas, playsuits, polo shirts, rainwear, scarves, lingerie, mini-skirts, sweaters, night gowns, pajamas, leather coats, leather jackets, leotards, leggings, flight suits, uniforms, foundation garments, gym shorts, Halloween costumes, costumes for role-playing games, sweat pants, head bands, Bermuda shorts, body shapers, body suits, boxer briefs, boxer shorts, bras, athletic uniforms, bath robes, beachwear
I have a litigation with PEP Boys for the FUTURA brand tires, if you want to see details go to:
TTABVUE USPTO
Go to party and enter Kent G Anderson
Our Link Exchange:
Title: Restaurant Franchise
url: http://www.restaurantfranchise.com
Restaurant Franchise offers many different food franchises all in one location.
Choose from pizza franchises, donut franchises,coffee franchises,sub franchises, and more!
site: www.restaurantfranchise.com/reflinks.php
email: foodlinks@franchise.restaurantfranchise.com
Title:Small Business Franchise
Url: www.smallbusinessfranchise.com
Description: Browse the Small Business Opportunity site and learn about the top small business opportunities and franchise business opportunity listings available. We have comprehensive directories of business franchise for sale listings.
Title: Food Franchises
URL: http://www.foodfranchise.com
Description: Food Franchise provides a comprehensive directory of fast food franchises including coffee franchises, pizza franchises, food franchises,ice cream franchises, donut franchises, and bakery franchises.
© 2000-2024 TM, SM, Pat. Pending. All rights reserved and claims, rights set forth recognized by our laws and recognized by the courts governing them set forth.
Site hosted by inventnet.com